a. ATTEN T900 Series Soldering Tips ( 900M-T Series )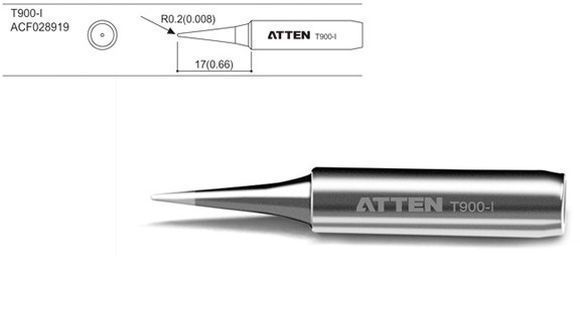 b. ATTEN GT-N100 , 100W Tweeser Handler

With soldering and desoldering function.
Suitable for soldering and desoldering various SMD devices.
Suitable for ATTEN GT-6150, GT-6200 & GT-5150 soldering station model.
c. ATTEN CS-05B Tip Cleaner, 68mm x 44mm
For cleaning soldering tips.
The soldering tip is cleaned by wiping or turning it in the metal wool.
Subsequently, a fine solder layer will remain which prevents fast oxidation of the soldering tip.
Represents a considerable advantage compared to standard sponge cleaning.
d. ATTEN AT-E210D Desoldering Tool, 208mm
The Desoldering Pump come with high vacuum force especially made for clearing circuit boards in rework jobs and field repair. ESD safe
Soft handle for comfortable grip and non-slip function.
Compact size.
Anti-rust spring.
Quick and easy solder residue clearance
e. ATTEN AT-2515 Soldering Wick, 2.5mm x 1.5m
f. ATTEN AT-310B Solder Pot / Tin Stove, 100mm
Specification :
Power :300w Frequency:50-60hz
Temperature range:50-480℃
Crucible Size:100mm
g. ATTEN JQ-100 Hot Melt Glue Gun
Specification :
Input Voltage:220V/230V/240V(optional)
Power: 100W
Temperature :195℃
Glue stick:11mm


h. ATTEN AT-FJ1 Wrist Strap, 3m Single Channel Anti-Static
Strong anti-static. The wrist strap can dissipate the static electricity of the human body
High safety performance. The wrist strap is made of thermoplastic material with light, Thin and soft, it is safe to contact with human skin and easy to use.
Strong resistance. the impedance of the wrist strap can reach 10⁴Ω